Latest Sneeze Release: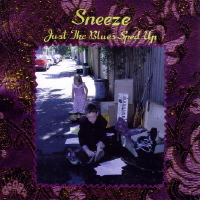 "Just The Blues Sped Up"







Click to subscribe to pushpin
Just The Blues Sped Up Tour!!
No shows announced.




For the most up to date gig guide, check out HAC and go to "Gigs".
Sneeze News!!
September 8th

At their last 3 setter, Sneeze were giving away a free live cd. It was only available at that show. You can view the discography here.
Also have a new setlist from June 12th 2004 at the Pony in Melbourne, click here.

June 17th

Sneeze are currently on tour. Check dates above for more info.
A few Sneeze songs have been played on Big Brother.

March 22nd

Sneeze's new album Just The Blues Sped Up will be in stores on April 5th, you can pick it up early from HAC's Online Store, or from gigs.

January 12th

ISD #4 - It's that time of year again, yes that's right, International Sneeze Day is only 8 days away. So get those moustaches ready so you can celebrate in style! For more information click here.

December 11th

JJJ have added If It's Catchy It Means You Stole It to their playlist - a first for Sneeze. You can request it online here.

December 1st

Sneeze return for only their second live show this year as they have been busy putting together the followup to 01's Lost The Spirit To Rock & Roll. Sneeze - featuring Tom Morgan, Nic Dalton, Simon Gibson with bassist Bill Gibson and keyboardist Cameron Bruce - will be launching new single If It's Catchy, It Means You Stole It at the Vic On The Park Hotel on Friday 12th December.
If It's Catchy, It Means You Stole It will be given away FREE to the first 100 punters through the door and is from the album Just The Blues Sped Up due out late February 2004.

July 22nd

Sneeze have been recording songs for their new album.
Sneeze played with Bernie Hayes Quartet at the Annandale Hotel in Sydney in June, above is a pic from the show.

February 9th

The rumour is that Sneeze have been recording their new album this past week.

November 24th

Last shows until March this year happened this weekend.
You can still see the Sneeze show at the PARADISO AMSTERDAM, 12 Sept. 2002, on www.fabchannel.com select: "RECORDED"
New photos, check out the Gallery. New ticket, check out Miscellaneous. New review, check out the Reviews.

November 13th

The 3 setter at the Espy on 24th November has been CANCELLED.

November 10th

Nic says, "These are the last Sneeze shows for the year, want to start recording the next one, add a whole lot of new songs to the set and work out what to replace the sadly-gone 'shhh! sex gang' shirts with.
So the Sneeze tour diary hasn't been worked on yet, it's a group effort and we want it to be a good read and well worth it, so just waiting on a few memories to return."
Lots of photos from The Pressure Point in Brighton on September 26th. Click here to see them. Thanks Chris!

October 22nd

A new review and a new poster.

October 6th

Sneeze have completed their Europe/UK tour. We will start putting up the tour diary in bits and pieces over the next few months...should make interesting reading. Of course, all the best parts will be left out.
This weekend (oops, it's kind of nearly over...sorry this news is late!) Tom an Leticia are doing an interview for Julio Ruiz (Spanish John Peel) - Disco Grande - Radio 3. They'll be talking about the tour.
I've put up a bunch of reviews from the tour on the reviews page.
Updated the lyrics for Dress Ups

September 22nd
September 7th

Tour dates updated: the MADRID show is Moby Dicks not Sidecar. All shows with Godstar, The Smudge Show and 120 Minutes, unless otherwise stated.
Tour diary coming soon!
Old Sneeze News