MELBOURNE TOUR
October 16 to October 19, 2001

By Adam Gibson
Wednesday, October 17, 7am-9.30am, Albury
We emerge from sleep, everyone reasonably bright and ready to hit the road. Go to the van, throw our bags in, re-hitch the trailer (which, thank God, has survived the night without being stolen) and drive down towards the main bit of town. Our intention: breakfast.

9am - 11.30am, Albury
Nic finds a parking spot in a back street and we head to the official Sneeze Albury breakfast eatery: the Something or other Café. The boys load up on some solid plates of eggs and toast. There's also cups of tea all round and Tom hits an iced coffee flavoured milk.
We take a brief stroll around town, visiting the local Cash Converters first on the odd chance they might have a good amp or piece of sound equipment, as they often do. On this occasion: bugger all. Just one or two generic Fender copies worth about $20 and being sold for $200.
Tom disappears somewhere, Simon, Nic and I wander into some shops. Nic is after a street directory of Melbourne so that this time the band can actually find their way around town. But the directories are too expensive so the idea is canned. Go back to van to find Tom relaxing to the Classic Hits being played on the local radio station. He tells us that just before we got there, Richard Clapton's Girls On The Avenue had been on. We all agree: old Dick is a legend.
Don't you slip
Don't you slip...
in love with the
Girls on the avenue...
11.30am, Exit Albury
After a brief and fruitless attempt to find the local St Vinnies, we hit the Hume south again. Simon driving. The road is again relatively empty and we cruise down towards Melbourne with a Dalton Special compilation tape in the stereo. A collection of cool songs, but the coolest by a mile being the old trucker classic, Convoy.

Convoy oh convoy
Ain't she a beautiful sight
Convoy oh convoy
Drivin' through the night

Around 1pm
We come to obviously one of the most important parts of a Sneeze Melbourne road trip: a mandatory visit to Violet Town. Yes, the home of Killing Heidi is an official stop on way south. It's my first visit to the town and ... jeez ... there ain't much there. And much of what is there is closed this particular day. This includes the local second hand store which, I kid you not, has Ella Hooper's former BED for sale! Seriously. Through the front window Nic pointed it out to me, hanging on a far back wall, the words "Ella Hooper's Bed" clearly visible on a hand written sign. The mind does indeed boggle.
Simon and I buy a milkshake each from the town's milk bar, served to us by a genial fellow with severely crossed eyes.
We can make it in the ennnnnnnd

1.30pm
On the road. Me driving. A smooth run. In the back of all our minds, the evening that is to come. But as myself, Simon and Nic are sharing the driving, the kilometres seem to pass effortlessly. Another advantage of the extra driver is that it allows Simon and Nic to not be completely rooted by the time they get to Melbourne and actually have to play the gig.
Around 3pm
Start to approach the outskirts of Melbourne. At one point the highway comes over a rise and there, in the low-clouded distance, stands the high rise of the CBD. We're still driving through green paddocks and I'm struck with the thought that Melbourne is considerably smaller, in actual geographic size, than Sydney. There's a palpable zing of excitement in the van. We're almost there.

3.15pm
Nic takes over the driving for the final run into the Melbourne traffic (bloody trams, I hate them!). The phone rings a couple of times; the girl from the television show Sneeze are due to appear on the next day, the bloke who Tom and Nic are staying with. The TV show, The Big Schmooze, wants to know the floorplan set-up of the band, plus mic requirements etc. A call is also received from Beth, from the Melbourne band Bidston Moss, who is going to be playing bass with Sneeze at the gig tonight and also on The Big Schmooze.
Everything appears to be settling into place and we head across the grey Melbourne streets towards The Corner Hotel at Richmond, the venue for the night.

4pm
Arrive at the Corner. It's a fantastic venue. A wide viewing area with a good stage. In fact, there's also a smaller stage, on which a band called Grandview, featuring Tim Oxley (ex The Verys) and Leo Mullins (ex 2 Litre Dolby, the Welcome Mat), will be playing tonight.
Nic tells us he played there with the Lemonheads, while Tom says Smudge played there a bunch of times. Simon has never played there, although his old bands Disneyfist and, ahem, Waxworks, did several tours of Melbourne back in the old days.
Sound men and the like are hovering around the stage and we quickly unload the gear and set things up onstage. As Evan doesn't have a band with him, things are a lot less hassle. We can basically leave the gear there, not have to worry about shifting the amps or the drum kit for the main band.
Nevertheless, the sound guys are looking anxious for us the get out of the way. Nic establishes that they want Sneeze back there around 6pm for a soundcheck, so we decide to clear out and go and get some food.

4.50pm
Someone says "pasta" and the idea takes hold. We go in search of a pasta joint and end up finding a terrific café called Timbale's. The expense of liquor licenses in NSW prevents similar small establishments in Sydney from being able to sell alcohol. But in Melbourne there's no such problem. Little cafes such as Timbale's can offer beer - and a very cool vibe - without having to fork out exorbitant licensing costs. Hence, Melbourne overall has a plethora of bloody good places to hang out. Not that selling alcohol necessarily means a place is better, just that there's a general feeling of less restriction. Anyway...
We all get a tuna pasta with chilli dish and it's beautiful. Nic, Tom and Simon go to work writing the set list for the evening. They've only got a half an hour set, so the list has to be all killer, no filler. Vigorous discussion ensues as to the merits of particular songs. Nic doesn't want to play this, Tom doesn't want to play that. Simon thinks they should play this, but he doesn't mind playing that. Eventually it's all nutted out into what will later prove to be an awesome ten song line-up.

5.50pm
As if to confirm our cliched opinions about Melbourne weather, the moment we set foot outside the café, it starts to piss down with rain. Cold too. We run like crabs under the awnings back down towards the venue.
The front bar of the pub is already well-patronised and we walk through there to gain access to the venue area. We walk into the room and two blokes are up on stage with guitars on.
It's Evan Dando and his touring guitarist Chris Brokaw, who used to be in the awesome band Come.
Evan is stoked to see Nic and Tom, and vice-versa, and he spends a lengthy period chatting to us all while the sound men get tetchy behind their consoles. Then he does a quick sound check and everything seems okay. We all hang out in the backstage band room for a bit, chatting about this and that, Evan saying over and over how much he loves "Lost the Spirit..." He raves and raves about how good he thinks the record is.
Then honorary Sneeze bassist for the evening, Beth, arrives and is eager to have a run through of the songs she is to play tonight. She's a lovely, soft-spoken girl who seems largely unfazed by the whole experience. There follows a priceless scene of Nic and Tom running through the few songs with Beth on small amps in the back room while Evan taps away on the arms of a loungechair and hums bits and pieces of the songs.

6pm
The sound blokes give Sneeze a yell and tell them, okay, time for their soundcheck. Tom, Nic, Simon and Beth assume their positions on stage. They do Don't Go Distant and another song (which the beer that would be consumed later that evening appears to have wiped from my memory.)
The sound is atrocious at first but then the sound man gets his act together and tweaks the nobs into the right places and all is right with the world.
The band seem quite pleased with everything and all in all there are no dramas. Everything is almost set for the evening to begin.

6.30pm-7.30pm
Hang out in the band room, which has a nicely stocked fridge, comfy loungechairs and a general "band friendly" ambience.

7.30pm
We're told the doors will open at 8pm and are informed that it's a sell-out. This is exciting. Simon and I remember to put some merchandise for sale at the merchandise stand. There's only six or so Sneeze t-shirts left, but a bunch of CDs and the new release double vinyl copy of "Lost the Spirit..."
That sorted, we go back to the room and sip our beers in anticipation

8pm
The doors open and we can hear the crowd milling around out there, building up quickly. All of us go out at various stages to walk around and have a look, this and that etc. Beth is nowhere to be seen but she'll surely turn up soon. Surely...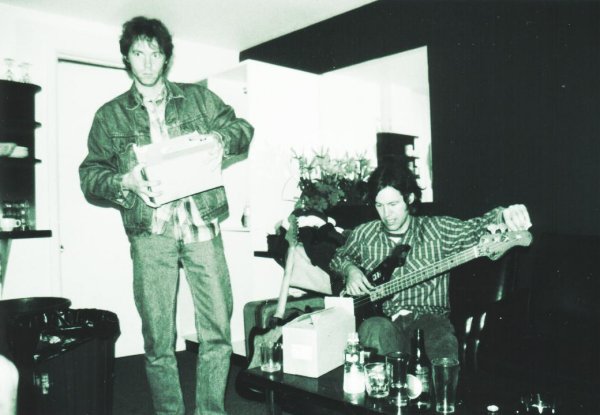 9pm
Sneeze are due on-stage at 9.10pm but there's no sign of the Beth-ster. But no-one is panicked. However, Nic decides to go and have a bit of a look outside. As he does he finds Beth on her way in, having just had to convince the doorwoman that she's "in the band" (that old chesnut). They return and thus everything is set.
9.10pm
Sneeze on-stage. Crowd packed. It's chocka-block up the front and without any fanfare, just an intro from Nic saying "Hi we're Sneeze", they kick into it.

Although the crowd are primed to see Evan, they also appear to be into Sneeze as a band on their own merits. I'd say a lot of people there wouldn't have had any idea of the Dalton-Morgan Lemonheads/Dando connection. And that's a good thing, Sneeze being a completely different beast.

Beth handles her duties with aplomb, not hitting a bum note, while Tom, Nic and Simon are in fine form, clearly revelling in the large crowd and the good sound from the PA. I won't blather too much about the gig. It was a bloody good one. Suffice to say it was, bearing all the ingredients in mind, one of the best Sneeze shows I've seen. I can't say too much more than that. The crowd reaction? Very good, very enthusiastic and very intent on having a good time to the music.

10.50pm
Evan appears on stage and the crowd go a version of berserk. He opens with Outdoor Type, which goes down a treat (later I asked Tom what it felt like to have written that song and for it to be so popular. He says the funny thing is he wrote it years ago and had had it knocking around for ages before he even played it to Evan. When Evan heard it, he loved it and asked if he could record it. The rest: history. Oh and another thing ... Tom says he wrote the song in its entirety in one sitting. It came out basically complete. Anyway...)
Evan runs through an incredible selection of songs, a lot written by him, a lot written by others including Tom. Earlier in the evening, Evan had been drumming up enthusiasm for a "reformation" of a mythical band entity known as "Lick". Lick was the name of the incognito beast that was formed one night 10 years ago by Nic, Tom and Evan.
They played one gig at the Annandale Hotel and were basically a Lemonheads cover band. From what I remember being told, Evan was on drums, Nic on guitar and Tom on bass. Anyway, early on this Melbourne evening the idea was floated of having a "10 year anniversary" performance of Lick, with the keenest participant being Evan.
So as Evan neared the end of his set, he could be seen to look side-stage and give the nod that the Lick return was on. With loyal Dando fans unsuspectingly shouting "Luka!" or "Different Drum" or "Into Your Arms!", Evan, Tom and Nic gather ranks backstage then take to the stage, Nic taking the sticks from Simon and settling in behind the drums, Tom hitching Nic's bass over his shoulder, and Evan strapping on Tom's guitar. It is complete mayhem for a good few minutes as leads are plugged and unplugged, guitars tuned and amps fiddled with. Eventually all comes together and Lick, with Chris Brokaw adding an extra guitar, is breathed back into life. What follows are ripping punk rock versions of Luka, Different Drum and Rabbit, the latter with Simon taking over from Nic on the drums and Nic cranking up the Casio to bizarre effect. It is all very huge and mad and there are some photos I take which testify to this. Another song or two may have been played but I can't say for sure. It's a great Rock moment and everyone who witnesses it won't forget it in a long time.
Was it one of the best all round gigs I've seen? It's definitely in my top 4, I'd have to say...

12am
Flushed with the momentousness of the gig, everyone is rabidly happy backstage after the gig. Again, as Evan didn't have a band, it's as if it was a full Sneeze party backstage, although Evan is clearly having a ball and holding court with a series of anecdotes. Meanwhile, Simon, myself and Tom take full ragged advantage of the booze on supply and a whole mad and disparate group thunders into the night. Other participants includ Scott from Melbourne band Coindrop and his wife Tina, Aisahn from Shock Records and, God, a bunch of other people, creating an excellent atmosphere. I talk to Evan's wife Elizabeth for a good while ... she's quite possibly the nicest person on earth.
I could go on with other various descriptions of debauchery that may or may not have occurred, but I won't...

Some ungodly hour...
Having completely lost track of what time it is, stumps are pulled on the evening and with a series of lavish farewells, plus photographs (see pics), we all trundle off to our various accommodations for the evening. Simon and I are staying with Scott and Tina and thank goodness Tina is still as sharp as a tack and is able to pour us into a cab and get us heading in the direction of their North Fitzroy abode.
The cabbie plays us James Taylor and, on hearing Simon is a drummer, wants his comments on the drumming on the track. Being almost too exhausted to talk, we are glad to reach the destination and go inside to Tina and Scott's unbelievable apartment and go to sleep.

Oct 16 | Oct 17 | Oct 18 | Oct 19 |
---

All words and photos by Adam Gibson, 16-19 October 2001. Please ask before reusing.