This is an edited version of an email I sent Carolyn last weekend. It wasn't meant to be a proper review but I guess as it talks about the shows, it's probably allowed to pretend to be one.
It's the sunday night after 3 Sneeze shows in a week taking in Newcastle, London and Colchester. That's a hectic rock and roll week by my standards!
Monday night was Sneeze, The Smudge Show, Godstar and 120 minutes in Newcastle with a local band called Spraydog. It was a great night. 120 minutes played first then Godstar, the Smudge Show, Spraydog then Sneeze last. Saw Nic before the show, said he had been enjoying the tour.
120 mins didn't play many songs, maybe five, and we missed the first two because they were quiet and we were in the other room. What we heard was good though. Godstar were super, they opened with 'another spring another love' and the highlights for me were a really, really good pushpin and there's nobody coming over. I never thought I'd get to hear those songs live. Nic said afterwards that they never play the old stuff anymore but they played them in a set in Australia before they left and he thought they were good. I agreed, they had sounded great. Smudge did Divan, Tenderfoot, Outdoor Type, Ingrown, Mike Love and others that i can't remember right now. They were great too. Sneeze were last up and rocked out, mainly with stuff off the new album (so i'm glad i'd warned my friends about all the sex-change references!) but they opened with Ying Yang Telephone. Doctor was great. Ain't no love on the road turned out really long with lots of silliness on stage that continued in baby boom. Through all the sets, the band looked like they were having fun and by the end, there was even audience participation... After the show I asked if Nic wanted our mini-sneeze wheel for the London show but he said it was ok.
Friday afternoon, I headed down to London, met up with Kate and we went to the Barfly show which was just Sneeze. The show didn't start too good compared with Monday but it turned around about half way through and ended up excellent. They opened with sex gang and Wu-Li but the sound was quiet and people didn't stop talking to listen. Then Tom broke strings and his amp. The talking people kept talking. Nic did Satan while Tom was getting sorted. With a full band back, Doctor came along and it was brilliant again, and after that, the show went well. At the end there was a great 'ripped jeans' that took in loads of the old purple album songs. Somewhere during the set, Kate and I decided that we'd go to Brighton the next day to fly a kite and see different bands so after the set, we went to say 'bye' but somehow ended up saying we'd go to the Colchester Sneeze show instead.
When we woke up on Saturday it was already late. Time for a shower and breakfast before heading off to Colchester, now more sure that it was the right thing to do, after all, Sneeze might never come back again and we'd waited a long time for some UK shows.
The first thing we did in Colchester was find the venue, a wonderful old church that looked beautiful and, we found out later, was an acoustic dream. The first thing we saw was Mark E Smith from the Fall walking around the grave yard with a girl in ankle socks and stilettos. Killing time in Colchester before the show meant looking at the castle, drinking tea in a lovely old tea shop, looking around a fabric shop, eating curry and drinking a pint of bitter in a noisy orange pub. Nic was heading into the venue at the same time as us which was handy as he had said the day before he would put us on the door but had forgotten. The music playing inside was Tea Toast and Turmoil - really strange to be in a church listening to old Smudge with Kate and some of the band sitting across the room.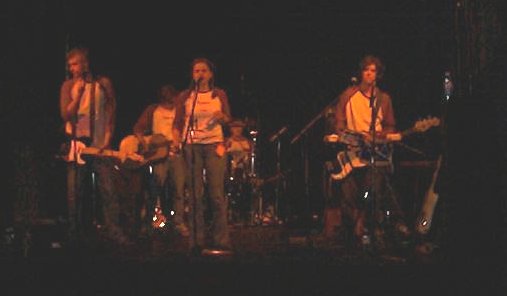 That night the set was great from start to finish. Really, really, really good. Loud and true was just perfect and they did going ski-ing which they hadn't done at the other shows i'd seen. Mark E Smith didn't try to beat the band up (I had been extremely worried about this since the gig was announced). The audience seemed to be into Sneeze too, which was a nice surprise as I'm guessing most of them would have been there for The Fall. We had to leave right when Sneeze finished to make the train back to London and left buzzing from the whole thing.

By Karen Moore