Lick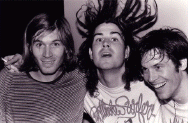 who and what was Lick?
An early Lemonheads album i hear you answer. Well, you'd be right in thinking that. However, Lick was also a small, not at all mythical, side project put together in the early 90s. The members were Evan Dando on vocals and lead guitar, Tom Morgan on bass and Nic Dalton on drums.
They were primarily a Lemonheads cover band, playing only one show at the Annandale Hotel in October 1991. This was way before any Tom Morgan/Evan Dando song collaborations, in fact, Lick had never even rehearsed together. Nic learnt the songs by drumming along to a Lemonheads tape on his walkman, Tom is a huge Lemonhead fan, so he already new all the songs and Evan, well, he is a Lemonhead.
So after The Cruel Three (3 from the Cruel Sea), Smudgestar (Smudge with Nic on bass) and half a solo set from Evan, Lick took to the stage playing about 10 or 11 songs from all three Lemonheads' albums up to Lovey, including Different Drum, Rabbit and Crazy.
ten years on...
Evan Dando is moving towards the end of his set in Melbourne (Sneeze played earlier in support), and the announcement is made to the audience that a 10 year anniversary reformation of the band Lick is about to take place. Evan, Tom and Nic take to the stage with Chris Brokaw adding an extra guitar. Read more in Adam Gibson's tour diary...
---

Top three photos by Rob Murphy, Annandale Hotel, October 1991. Please ask before reusing.
Bottom two photos by Adam Gibson, Corner Hotel, Melbourne 17th October 2001. Please ask before reusing.